Bench presses and curls are two of the first exercises that are learned by new weight lifters. For men, the chest or "pecs" (short for pectorals) are second only to biceps as the top show muscles in teenagers and young adults.
For women, the chest is even more important. Keeping well built pecs can be useful in maintaining a solid, perky appearance of the breasts.
Serious fitness enthusiasts and athletes know that the pecs are involved in one of the main powerlifting exercises, the bench press. The bench press is one of three exercises, including squats and deadlifts, in a standard big 3 powerlifting competition. For this reason, it is always important for powerlifters to increase their chest strength.
Therefore it seems to me that everyone has a reason to train their chest, including men, women, athletes, bodybuilders, powerlifters, strongmen… everyone; and here are the top 5 best chest exercises you should use.
How to Get a Big Chest
Training to build a strong back and triceps are just as important to building a big chest, as chest exercises are. So don't forget to read up about the top 5 best back exercises and the top 5 best triceps exercises. One thing is for sure, without strong triceps, you will never have a big bench.
Also you must always train your lower body in order for your upper body to grow. For the lower body I recommend the top 5 best leg exercises and the top 5 best hamstring exercises. Training your whole body with a full body workout routine is one sure way to make sure everything grows or gets toned, depending on your goals.
Now we must examine how the pecs work so that we can better target them for growth.
Anatomy of the Chest
The pectoralis major (aka pecs) is located on the front of the rib cage.
The pecs attach to the humerus near the shoulder joint and originate on the breastbone in the center of the chest.
The fibers of the pec run like a fan across the chest. Their fan-like structure allows the humerus to move in a variety of planes across the body.
The pectoralis minor is located underneath the pectoralis major, attaching to the coracoid process of the scapula and originating on the middle ribs.
Functions of the Chest
The function of the pectoralis major is to bring the humerus across the chest. A flye movement is the best example of this action, although the true function of the pecs would be more of a combination of the first 1/2 of a chest press followed by the second half 1/2 of a flye, ending with the palms facing each other at the body's midline.
The pectoralis minor serves to move the shoulder area forward. This can be seen by shrugging your shoulder forward.
The Top 5 Best Chest Exercises
Honorable mentions: hammer strength chest press machine, flat or incline; machine flyes; cable flyes.
Controversial point #2: many people say they do bent arm dumbbell pull-overs to work the chest. I don't see how anything about dumbbell pull-overs has anything to do with the pecs. I can see them working triceps slightly, lats, and serratus. The exercise itself is great fun; I love dumbbell pull-overs. Unfortunately they aren't that effective for working any specific muscle. I might add them to the end of a back workout just for fun, but I would never add them to a chest workout on purpose and they definitely have no place in any top 5 list except maybe top 5 best exercises for fun, or top 5 best serratus exercises.
Here is what a dumbbell pull-over looks like, although I'm not sure why this guy is using such a light weight.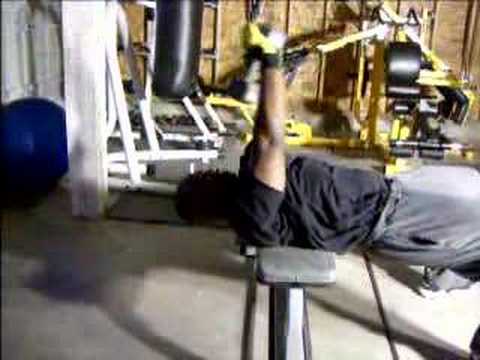 Full Body Workout Integration
To integrate these exercises into a full body workout program, you should choose either barbell or dumbbell bench press as your main chest exercise (flat or incline). Follow it up with a leg or back exercise. Then choose either dips or flyes superset with something like calves or abs.
If you chose a flat bench press, you should choose incline flyes; if you chose incline bench press, you should choose flat flyes. This will allow you to lift maximal weight on the compound movement and hit the pecs from a secondary angle, while also training a second muscle group in an assistance fashion (flyes for shoulders, chest dips for triceps).
On a subsequent full body workout day you should choose plyo push ups as the only chest exercise for the day. Focus on completing 10 sets of 5 reps, or 5 sets of as many as you can complete in each set. The goal is to focus only on explosive chest training for that day. Once you start to slow down, or if you you miss a jump or a clap, the set is over. You should never train slowly or with compromised form on an explosive exercise.
Standard Split Workout Integration
To integrate these exercises into a training program that splits the body amongst different days, you can do a flat bench press followed by an incline bench press on chest day, and follow those up with either flyes or dips. I recommend doing one barbell and one dumbbell movement, but choosing two of the same is also acceptable.
As with full body training, explosive or speed training should be done on a different day from strength training.
Focusing on your chest is a significant effort. If you wish to make superior gains in chest training, you should put your squat and deadlift progress on maintenance until you complete a 4-6 week chest prioritization phase. Don't get me wrong, you can still choose to focus on everything at once and make great gains, but to prioritize any one muscle group you should put everything else on hold.
Tags: chest, chest training, training