When you think of calves, you picture the part of your leg that everyone else can see when you're wearing shorts. Sure, you can have a huge upper body and quads, but if you have the calves of a 10 year old boy, then people may often chuckle.
Women prefer to have slim, shapely calves, and these exercises can help the females to accomplish their goals too. Ladies, don't be afraid of training your calves just like men do… strong calves will even help you to walk better in high heels.
Of course, calf development is highly dependent upon your genetics. You can have very strong lifts, but the insertion points of the calf muscles are all that matters. Judges in bodybuilding competitions often do not put a lot of weight on the calves as a judging factor, but they do matter and are always good to have. And let me tell you, for those guys who think calves aren't important on the beach, the women DO look and, yes, they DO judge you for it!
Never fear though, if you do not have aesthetically pleasing, low insertion points, you can still bring your calves up quite a bit.
How to Get Big Calves
As mentioned above, you can be as strong as possible on all of the main calf lifts, but it won't mean jack if you do not have the low insertions. Sure, they may have size, but they may just not be as noticeable. Face it, some people will have great calves and some will not. You should definitely still train them despite your genetics. Arnold had pathetic calves, but as you can see, he brought them up through hard work and dedication. You can do it too.

Anatomy of the Calves
The rear calf muscle has two main parts: Gastrocnemius and the Soleus. The Gastrocnemius is made up of two heads: the medial and the lateral. These two heads will appear to form a diamond shape whenever they are fully developed. We love our standing calf raises to build the Gastrocs.
The Soleus is not visible looking at the body on the outside. It actually lies underneath the Gastrocnemius on the rear of the lower leg. The Soleus will be most active when doing exercises whenever your knees are bent. Having a strong Soleus is important to the thickness of your lower leg, helps to stabilize your ankles, and helps to protect your Achilles tendon. This is why doing seated calf exercises are also important.
The front of the calf consists mainly of the Tibialis anterior and a handful of other smaller muscles. The Tibialis anterior is responsible for helping to flex the ankle – to point your toes towards your head, or to decrease the angle between the top of your foot and your shin. It's not really all that important to train your Tibialis anterior, but if you want to, you can do some dumbbell shin curls: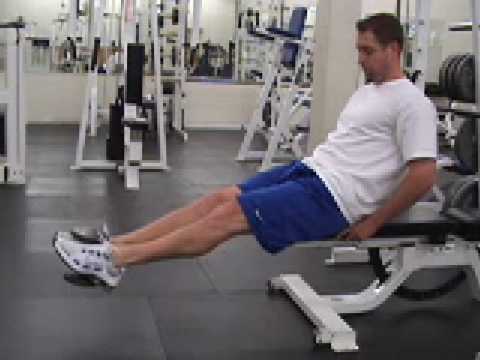 Functions of the Calves
The function of the Gastrocnemius is to elevate the heel, which is also known as the plantar flexion. The function of the Soleus is pretty much the same. The only real difference between the two is that the Soleus works with the knee bent, which the Gastrocs work more with straight legs. The Tibialis works during every leg exercises, significantly more so when it involved pointing your toes towards your face.
The Top 5 Best Calves Exercises
Integrating Calf Training Into Your Workout
To integrate these exercises into your training routine, you should pick one exercise that focuses on the Gastrocs (knees straight) and one that focuses on the Soleus (knees bent). I enjoy pairing the seated calf raise with the single leg calf press. Normally I get great results from super-setting my calf training with completely unrelated muscles.
For example I might hit my calf raises immediately after a set of bench presses, and then I might pair the calf press with triceps dips. Or if you want to focus 100% of your intensity on calf training, then you can train them separately. I would not superset two calf exercises together though, as fatigue from the first set will impair performance on the second set.
Calves can be trained every other day, just like most other muscles in the body. The Soleus can sometimes be trained after only 24 hours rest, but I really wouldn't recommend it. Turning your calves into cows is hard work, but it can be done.
Tags: calf, calf training, calves, exercise technique, Weight Training, weightlifting